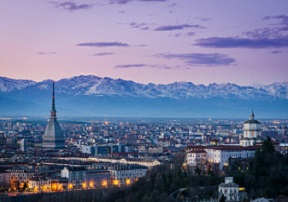 December 2019
We're in Torino for Christmas, a wonderful time of the year to be in Italy. The Alps overlooking the city are capped with snow for a bit of winter magic, and the streets and piazzas sparkle with holiday lights and decorations.
Around 18:00 on any average day, the caffès and bars buzz with people enjoying aperitivi and the tasty stuzzichini that are always served with drinks at what might be called the Italian cocktail hour. But in the Christmas season, when young people have been freed from their academic shackles, the buzz is much buzzier, adding to the festive atmosphere everywhere.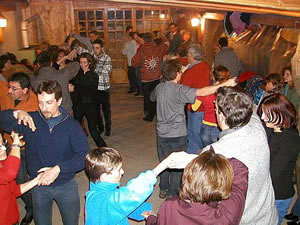 A few nights ago, we were lucky to catch some Occitan music and dancing at the Taverna Tortuga, located in a converted cotton mill in the small town of Chianocco in the Val Susa area in the foothills of the Alps. And, yes, they've already had some snow up there, so the energetic Occitan dancing (some might see similarities to kind of square dancing done in America's Appalachian Mountains) kept everybody warmed up.